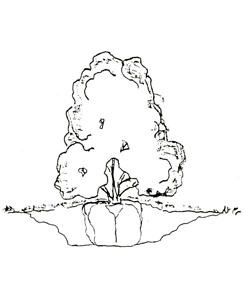 GUIDE FOR PLANTING IN TIGHT CLAY OR POORLY DRAINED SOIL
Dig hole with irregular sides 1 to 2 feet wider and no deeper than root depth.
Making clean cuts, remove all dry or broken roots exposed.
Thoroughly mix gypsum or manure with 8-10-8 fertilizer* at a rate of ¼ cup per foot of height in backfill soil.
Set root ball at least 2 to 3 inches higher than existing grade. Work in soil mixture and make sure mixture is free of clods. Work in soil until all roots are covered slightly. Do not compact soil
by tamping.
Apply hardwood bark mulch 1 to 2 inches thick but keep mulch away from the stem to prevent stem rot.
For trees over 6 feet use 3 guide wires covered with rubber hose where they come in contact with tree bark.
*Add cottonseed meal for acid loving plants such as Rhododendrons and Azaleas at ½ cup per foot of height.